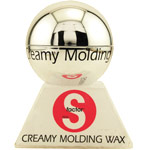 This year I am going to be prepared! I swear every year I get caught out because I am either too late in booking my hairdresser or the last dress in my size was sold. On my list of things to prepare: hairdresser,check dress,check makeup,check facial appointment,check.

Now I can check off another one as well: sexy tousled party hair,check! This time I'm using one of my favorites from Tigi called S Factor Creamy Molding Wax
to give me that piece-y textured sexy look. After work, all I need to do is to scoop some of this product out, warm it between my hands and randomly style from underneath (to avoid the flat hair syndrome!). It doesn't hurt that the container is super sexy looking as well!

Enjoy!


See Christmas Wish List Item No. 7.